Cool POLICE CARS from around the world
Germany: Brabus CLS Rocket, is currently the world's fastest legal sedan with 730hp from a twin-turbo V12 and a top-speed of 225.19 MPH
Germany: Porsche 911 Carrera has a 6 cylinder engine and 500hp, it's capable of over 186 mph & sprinting to 60 mph in just 4.6 seconds.
Hamburg, Germany.
Austria: Porsche 911 can speed up to 177mph & costed £65,000 for the Austrian Police.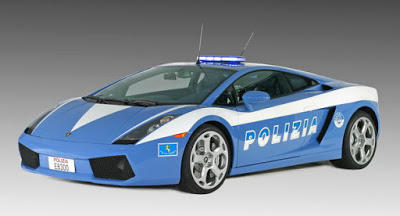 Italy: Lamborghini Gallardo. 'Lamborghini donated one of these beauties to the Italian Police back in 2004. They probably liked it as they purchased another one a year later for around $166,000. Top speed: 190mph. Powered by a 5 liter V10 with 500hp.'
Lamborghini Gallardo: UK.
Lamborghini Police Car in London. 'It a 640bhp Lamborghini Murcielago LP640. No more BMW 535d patrol cars for our boys in blue. Instead they will have a bellowing Italian 6.5-litre V12 and four-wheel-drive at their disposal, good for 211mph and 0-62mph in 3.4 seconds.'
Jeep in Jerusalem.
Police car in India.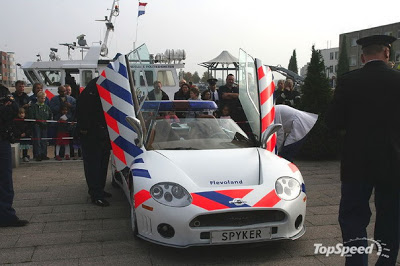 Holland: Spyker C8 Spyder, it has 406hp & a V8 with Lamborghini doors. Maximum speed: 186mph.
Bulgaria: Porsche 911.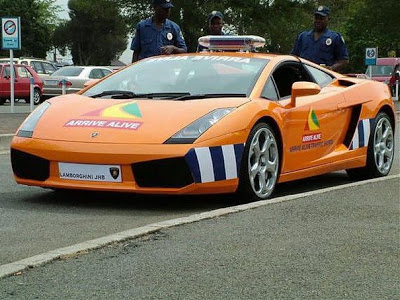 South Africa: Lamborghini Gallardo.
A local Lamborghini importer gave this $200,000 car as a loan to the authorities to use it as an "attention-getting device" to control traffic.
St. Petersburg, Russia.
Cruiser is from Barcelona, Spain.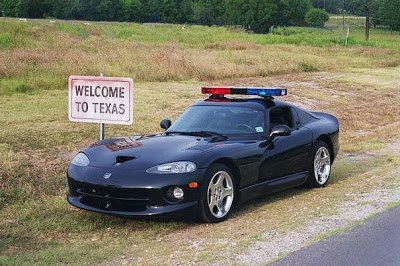 USA: Dodge Viper.
USA: Hummer H2, 700hp Hummer powered by a 7.0L supercharged V8 for a sheriff in Texas.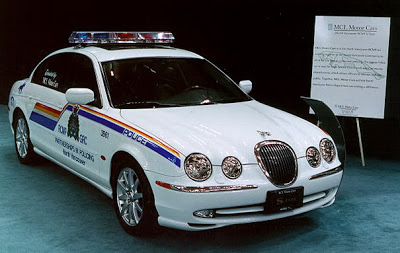 Canada: Jaguar S Type.
---