Avocado Cuber: Useful product designed for making uniform-sized cubes of avocado.
Onion Holder: With this tool you'll be able to create straight, even slices from one end of the onion to the other.
Corn Zipper: This product quickly and safely removes kernels from the corn while protecting the fingers.
Garlic Rocker: This excellent designed kitchen tool uses downward pressure and a 'rocking' mechanism for crushing and mincing garlic.
Banana Slicer: Just peel your banana, and push this gadget down from top; it creates evenly sliced pieces.
Tomato/Mozzarella Slicer: This useful tool swiftly cuts ripe tomatoes and creamy mozzarella into uniform slices.
Apple Corer: This ergonomically designed tool makes coring apples easy.
Strawberry Huller: This cool kitchen tool quickly removes the leaves and stem from a strawberry.
Rotato Potato Peeler: This cool innovative tool peels off potato skin in one continuous spiral.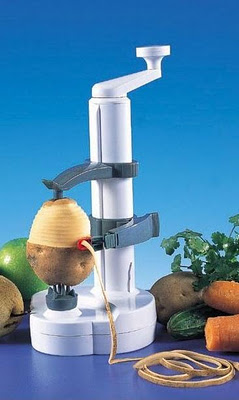 Banana Slicer: This innovative banana slicer quickly creates five thin, uniform banana slices by just a press of handle.
Strawberry Slicer: This cool gadget transforms a whole strawberry into perfect slices with just a press of the handle.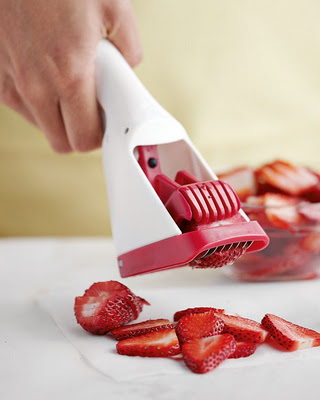 Apple Divider: This tool produces two sizes of uniformly sliced apples and with a downward push, it cores an apple and cuts it into thin slices.
Peach Pitter: With an easy downward push this tool turns whole peaches and nectarines into uniform slices.
Mango Pitter: This tool slices a mango down the center and cuts the pit out.
Pineapple Slicer and Dicer: This cleverly designed tool peels, cores, slices and dices a pineapple in two simple steps.
Watermelon Knife: Functional knife with a green handle and a red blade decorated with a seed cutout design.
Cherry and Olive Pitter: This time saving tool makes pitting cherries and olives easy while the fruit remains whole.
Vegetables into Spaghetti: Put the vegetables in this gadget and slice them into "spiral" or "spaghetti" as desired.
Compact Herb Chopper: It comprises of a non-slip chopping unit and a double hachoir in one. It's suitable for chopping all kinds of herbs, garlic, ginger, nuts and chocolate.
Finger Guard: Stainless steel shield that protects fingers while slicing and dicing.
[ Source: www.crookedbrains.net ]