New Hydra-Sports 41′ CC Is a Dragon-Slayer
It is not often that a new boat comes along that takes our breath away, but Hydra-Sports new 4100 SF center console did it. With over 70 companies building center consoles, Hydra-Sports is now king of the hill with the largest production center console built. This is a mighty fishing machine designed for serious anglers who want to go out in virtually any sea condition and bring home the big ones. With a 23-degree deadrise – just one degree less than deep-V race boats – Kevlar composite construction, and powered by triple Yamaha 350s, she is made for both speed and rough water. Full of clever fishing amenities, this monster has comfortable seating for 8 people at the helm and behind. For anglers thinking about moving up, or owners of large convertibles ready to down-size, the 4100 SF is a "must see" because no matter what you buy, this boat will be a benchmark.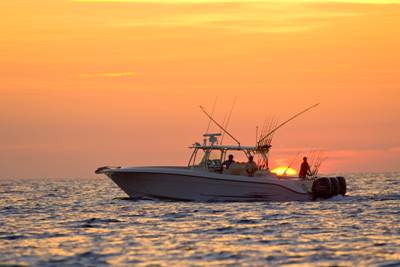 The new Hydra-Sports 4100 SF.
Hydra-Sports needed a boat to allow their upwards of 400 happy 33' center console customers a chance to upgrade without having to give up on their brand loyalty. At the same time the company had noted a down-sizing trend among owners of large convertibles used in offshore fishing. Thus, the 4100 SF was born. I found her to be a serious fishing machine with a design slant to the dedicated angler looking for a purpose-built machine. That said, if you're looking to combine your fishing with a touch of family comforts to keep the wife and kids happy, you've come to the wrong place. This is a total "guy-boat" – which is bucking a recent trend of builders to build in some cruising amenities into their otherwise fishing-oriented boats.
There is nothing quite like her in a large center console — triple bolster helm seats,
passenger seats aft but forward of the bait prep console, plus seating across the stern.
The 4100 SF is not made for the faint-of-heart angler who only intends to go out on clear days with flat calm and play it safe. Rather, this Hydra-Sport machine is intended of the "damn-the-torpedoes" type of game fisherman who isn't intimidated by a little wind and chop, but who is also not foolhardy. From the moment you step aboard and feel how solidly built this boat is, you'll realize that she is not happy sitting at the dock, rather, she's looking to compete with anything and everything in blue water and bring home the prize.
At 23,000 lbs. (dry) this boat is huge and solid, and a little weather is not going to faze her.
Construction
The toughness of this boat is evident in her build. Hydra-Sports took the hull from the mold and then chemically bonded a massive one-piece stringer system to that hull with Methacrylate adhesive. The result is a one piece hull and stringer grid system that is not going to fold under the pounding of offshore tournament fishing.
The 4100 SF means business with high freeboard, ample scuppers,
Kevlar construction plus all of the usual fishing machine features, and then some.
Performance
There is a tradeoff in this, however, and it comes in the form of weight. She'll tip the scales at over 23,000 lbs. dry and 28,000 lbs. fully fueled and loaded for gear. That puts her in the heavyweight category for her class. So to put it another way, when the bell goes off and everyone is running in the flat water of the channel to get offshore, some of those other boats may be leaving you behind — even at 55 mph with the triple Yamaha 350-hp V8s.
However… once she gets offshore and all the competition has throttled back to reduce pounding in the three-to-four foot stuff, the 4100 will keep going and leave the others in her wake. With her 23-degree deadrise — just one-degree less than high-performance racing-type boats — the 4100 SF's should be the envy of the battlewagons you'll be passing, much less the made-for-smooth-water center consoles.
It's a fair tradeoff. And, that is why fishermen down-sizing will love this boat. They are used to going out in snotty weather and not paying it much mind. But they will not be used to the speed they can get here.
Like everything else on the boat the helm console is huge.
It is also at bit high, a problem easily solved.
I recorded "best cruise" at 35 mph burning just 42 gph. That gives her a prodigious 475-mile cruising range! That means you can take her from Miami, across the Gulf Stream, across the banks, and fish in the Tongue of the Ocean and return in one day on one tank of fuel. All east coast canyons are within range.
Customer Feedback
Hydra-Sports seemed to have built this boat with their customers feedback tacked up on the drawing board right next to the blueprints. At every turn, there are features that keep the angler's needs in mind and even some that will leave them saying, "why didn't I think of that"?
One example of this simple approach is the fuel fills. There are two fills, one for each tank, located on both sides of the boat. This has a twofold advantage. The first is obvious; you can have the fuel dock on either side of the boat. The second… some of the fuel pumps out there are made for pumping very high volume into large boats. These pumps can easily overwhelm the vents of your smaller sized (read 45' and under) boat, resulting in fuel blowing back out the fill pipe. But, on the 4100, just open the fuel fills on the other side of the boat and blast away with double the venting.
Hydra-Sports has thoughtfully used blue courtesy lighting so you can get around the boat without hurting the helmsman's night vision.
We'd move the nav lights to the bow to avoid the green deck reflection.
Another cool feature…, the misters that spray a fine layer of moisture into the air under the hardtop. Great on those impossibly hot days when the air is hanging on everything. It's on Hydra-Sport's options list, but it makes my standard list.

Drawbacks
Not every boat is perfect and the 4100 is no exception. On the 4100 though, it's a short list. To start… the helm console is too high. That is to say it's too high for me (I'm 5'8-1/2"). It's perfect for the instrumentation and navigation cluster. But I have trouble seeing over it and having my sightlines stay close to the bow, and I could barely read the compass mounted on the top of the console. A solution could easily be had in adding a step-up behind the helm of a mere 6". Additionally, the helm seats need to have a fore and aft control to bring you just that much closer to the controls.
Center Console vs. Express…
There are plenty of express fishboats in the 40′ range, but no center consoles. Why? One reason is that increasingly the last five years traditional fishboat builders have been trying to appeal to both cruising and fishing needs and have therefore built accommodations forward. But express fishboats limit fishing to the stern of the boat, and the 4100 SF can be fished from bow to stern by many more anglers than would be comfortable in an express cockpit. In fact there were 48 rod holders peppered all around on the boat we tested!
The folks at Hydra-Sport are fishing fanatics and have chosen not to build a boat for overnighting. In fact, many builders of cruising boats have switched the emphasis of their boats from overnighting to day boating. And in sportboats, bow riders out sell cuddy cabins 10 to 1. Hydra-Sports may well be on to something here.
Some anglers may want to replace the passenger seating and bait prep console
with a fishing chair. With a 12'2" beam you have the room.
Overall
Clearly, if I were a Hydra-Sports 33' customer, I would look no further for my upgrade than within the company that has taken such good care of me. I would also venture to say that Hydra-Sports did such a good job with this boat, that I can easily see owners of large sport fishermen down-sizing to this boat as well. Short of hiding in an air conditioned cabin, this boat can do virtually anything and go virtually anywhere that her larger cousins can do and go when it comes to fishing. Best of all, the 4100 can do it at less than half the price and have far, far lower operating costs, as well.

---